Welcome to the Greene Music Education Center
Our music studio is conveniently located in San Diego off Miramar and Black Mountain Road. We are one of San Diego County's largest private music schools with an enrollment of over 400 students. Our goal is to improve the quality of life for people of all ages by introducing them to the joy of making music. We currently offer a variety of piano-based programs for both children and adults, including the Yamaha Music Education program, which accepts students as young as 3.5 years old. In addition to group lessons, we offer private lessons for piano, guitar, bass, violin, viola, cello, and voice.
Our Staff
Our Yamaha-certified teachers are dedicated and eager to work with young children and parents. Committed to providing happy, rewarding first musical experiences, these college-trained musicians and educators have passed demanding tests in musicianship while completing rigorous training prior to certification by the Yamaha Music Education System.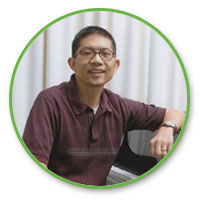 Jay Jay Lim
Piano Teacher and School Manager
Jay Jay Lim received his B.S. from the University of Arizona, his B.M. in Music Therapy from Berklee College of Music, and his M.M. in Jazz Studies from San Diego State University. He has been with Greene Music since 1999. In addition to teaching for the Greene Music Education Center, he has represented Greene music as a music therapist, facilitating music therapy groups at various residential and assisted living centers throughout San Diego County. He also participated as a research team member in the Yamaha-sponsored Music Making and Wellness project of 2002-2003. You may find him performing as a jazz pianist at various venues throughout San Diego, including Croce's, Cafe Libertalia, and Cafe La Maze (National City, CA). He teaches Piano I at Grossmont College, and he is the music director at Park Hill United Methodist Church (Chula Vista, CA). Jay Jay is also a staff member at the Music Therapy Center of California.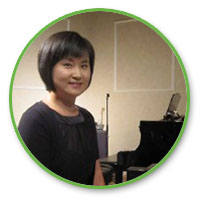 Elise Cho
Piano Teacher
Elise Cho received her B.M. degree from Wheaton College and M.M. degree from Arizona State University with focus on various keyboard instruments including piano, harpsichord, and organ. She has been a certified Yamaha instructor since 1998 and has taught at schools in Arizona, Michigan, and San Diego. She is an active member of Music Teachers' Association of California and her students have enrolled in the Certificate of Merit. She has been with Greene Music since 2001. As a mother of two young children who have studied in the Yamaha program, she is a strong believer in the system not only as a teacher but also as a parent. One of her passions is choral singing, and she performs regularly at a local church.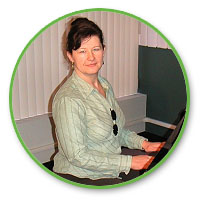 Tanya Djangirov
Piano Teacher
Mrs. Tanya Djangirov joined Greene Music in 2003. She holds a B.A. and an M.M. in Musicology from the Institute of Arts, Bishkek, USSR where she graduated with highest honors. Before becoming a certified Yamaha instructor, she served as a professor of music history at Music College in Bishkek (USSR) and as a music director at the Charter School in Kansas City, MO. She is an active member of Music Teachers' Association of California with over 20 years of teaching experience. As a music teacher and the mother of a world-renowned jazz pianist, Mrs. Djangirov strongly believes that music is a crucial part of children's, and for that matter, all people's general education.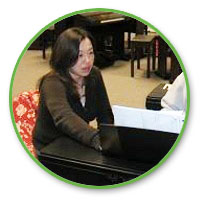 Mihoko Nemoto
Piano Teacher
Music has always been an integral part of Ms. Mihoko Nemoto's life, even in the very early years, when she began to learn to play the piano at the age of 3. 
At the age of 6, Ms. Mihoko was accepted into the Kunitachi College of Music, elementary school. She would continue her music education at Kunitachi College of Music through junior high, high school and college. Ms. Mihoko graduated Kunitachi College of Music with a degree in performance piano.
During college, she began expanding beyond the classroom by teaching at a piano studio in Tokyo, before coming to the United States in 1993. Once stateside, she taught piano in public middle school, accompanied for several instruments and choirs, and performed for the master class at Point Loma Nazarene University and Chapman College. Ms. Mihoko also performed several duo and solo concerts as well. 
Ms. Mihoko joined Greene Music in 1999, and has been a certified Yamaha Music System Instructor for over 16 years. In addition, she is an active member of the Music Teachers Association of California and The National guild of Piano Teachers.
Ms. Mihoko and her students are currently working to achieve a Certificate of Merit and 
Competitions. Recently, her students received first place, second place and honorable mention at the MTAC Sonata Festival in 2014 & 2015. 
She enjoys teaching very much and many of her students start piano at the age of 4 and continue all the way through college. Overall, she has 26 years of teaching music experience in both Japan and the United States.
Grant Fisher
Guitar and Bass Teacher
Grant Fisher was born to create. From a very young age, he would bend, stack, paint, and glue objects together to make larger structures that his parents lovingly considered art. But the expressive limitations of popsicle stick art forced Grant to find more a more complex avenue for his creative urges. He began playing guitar at 12 years old, influenced heavily by classic rock idols like Jimi Hendrix and Jeff Beck. Grant's broad musical palate allowed him to learn many styles of guitar and to perform professionally in a variety of groups.
After completing a degree in Mechanical Engineering, Grant moved to New York City to explore modern concepts of improvisation and composition through earning his MA in Jazz while serving as adjunct professor at NYU. There he studied with some of New York's most prominent musical figures including John Scofield, Chris Potter, Kenny Werner and Brad Shepik. He has also performed with jazz greats Ralph Alessi, John Benitez, Gabriel Alegria and many others at notable venues such as The Blue Note and The Jazz Gallery in New York City.
Grant now resides in San Diego where he actively participates in the small but vibrant Jazz scene.  He is currently accepting students of all ages for Guitar, Bass, Ukulele, and Mandolin.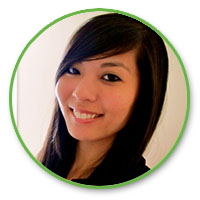 Yiting Wang
Piano Teacher
Yiting Wang received her B.M. degree from San Diego State University in 2013, and is currently pursuing her Master's Degree in Piano Performance.
Yiting started learning the piano when she was four years old, and has discovered her passion for teaching when studying piano as an undergraduate at SDSU. During her college career, she has participated in several solo and chamber recitals. She has also accompanied colleagues for their auditions, juries and performances. Despite with the concentration in performance studies, Yiting's goal and passion remain within the domain of education for young students. In addition, Yiting is also working as an accompanist at SDSU Community Music School for strings.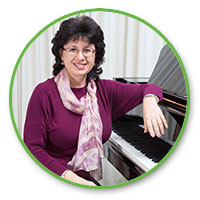 Lilia Ulman
Piano Teacher
Lilia Ulman studied at a traditional Russian Music School in the former USSR. She holds a Master degree from the State Institute of Pedagogy and Bachelor degree in Piano Pedagogy and Pianist Accompanist from the State College of Music.
She was on the faculty of the Music School for children in the former USSR, where she specialized in teaching classical piano from ages 7 – 16, preparing students for competitions, recitals and music college entrance. Since 1993 Ms. Ulman has successfully worked in San Diego at California Music Studio and as a private piano teacher.
In 2007 she received a Forte Award for a Fine Outstanding Resourceful Teacher of Excellence. For 14 years she worked as a Therapeutic Musician with the world renowned Dr. Frymann at the Osteopathic Center for Children providing classical music for children treatments. Ms. Ulman has worked as a Pianist Accompanist at California Ballet School and Company since 1996 and Grossmont College in Dance Department since 1994.
She has also worked with outstanding Artists and Choreographers who are known throughout the ballet world, including Dame Sonia Arova, Thor Sutowski, Maxine Mahon , Paul Koverman, and David Howard.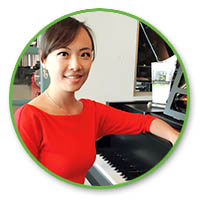 Angel Tsao
Piano Teacher
Angel Tsao Ms. Angel Tsao. MM, BA- Ms. Angel Tsao received her Master degree in Piano Performance from the The Boston Conservatory, and her Bachelor degree in Piano Performance with a minor in vocal from the Fu-Jen Catholic University in Taipei, Taiwan. Ms. Tsao has accumulated extensive experience in managing choirs as both a soprano and piano accompanist during the past 24 years, and has been teaching private and group lessons since 2004. She has worked for Geneva Presbyterian Church in Michigan as a church pianist and conductor of hand bell choir through 2012. Additionally, she continued to grow her experience in teaching by providing lessons at both the Music Expressions School and the International School of Music in Maryland. Most recently, Ms. Tsao was the Music Director at the prestigious Taiwanese Presbyterian Church of Washington located in Maryland until 2014.
Yuko Tanigami
Piano Teacher
Yuko has been teaching piano, including both private instruction and Yamaha Music School group courses as a Yamaha Music Education Sysytem Certified Teacher at Greene Music Education Center from 1998 till 2012, music composition, music theory, and music history for all ages and levels.   She has over 30 years of teaching experience and has taught in San Diego, California and Tokyo, Japan.   She has also taught Yamaha Music Education Program at public elementary schools in San Diego.   She enjoys teaching children and adults and see music as a universal language and as a tool for expressing and sharing feeling of joy and pain.  Moreover, many of her students have won numerous piano competitions and have been invited to perform, including performing their own composition.
She holds a B.M. degree in Piano Performance from Tokyo College of Music in Japan and an M.M. degree in Piano Performace from San Diego State University.  She is a member of Music Teachers'  Association of California, Music Teachers National Association, California Association of Professional Music Teachers, The Musical Merit of Foundation of Greater San Diego, The National Guild of Piano Teachers (Teachers Division of American College of Musicians), RCM Examinations and The National Music Certificate Program,and The Beethoven American Society.  She is also a member of the Applied Music Program faculty at San Diego Mesa College.
Adam Davis
Violin & Cello Teacher
Adam Davis is finishing double degrees in Accounting and Music with an emphasis in Violin Performance at the University of San Diego. He has 17 years of experience playing violin, and 8 years of playing with the San Diego Youth Symphony and Conservatory, as well as 4 years with the American Prize winning group San Diego Youth Philharmonic String Orchestra and Soloist Ensemble. He has performed professionally on Violin, Viola, and Piano, with notable solo performances in St. Peter's Basilica (The Vatican), Notre Dame Cathedral in Paris, and St. Mark's Cathedral in Venice. Most recently he was invited to play in the Tuscia Opera Festival Orchestra for performances of two Beethoven Symphonies and a full run of Mozart's Opera Cosi Fan Tutte, all in the Italian towns of Viterbo and Soriano nel Cimino.